Galaxy Note 4 faces the G3 in an early speed comparison, can you guess who wins?
74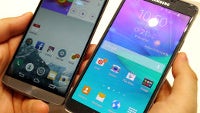 Samsung Galaxy Note 4 vs LG G3. Snapdragon 805 vs Snapdragon 801. Yes, things do seem pretty clear on paper, but life isn't lived on paper. This is why we're so obsessed with the real-life paerformance of our mobile devices. And while it's too early to talk about the Galaxy Note 4's real-world performance, having in mind that all we've been able to play with is a unit of the phablet that likely wasn't running perfectly-final software, we still think that the nice and quick speed comparison that we put together kind of gives us an indication of what could be expected out of the Galaxy Note 4 in terms of basic task execution.
As you can see in the video below, having the Note 4 and G3 side by side, we've cold-started some of the most used applications on each phone - contacts, camera, gallery, and more. By the looks of it, both handsets tend to be pretty equal, but as you'll see in the video, the LG G3 actually has a slight edge most of the time.
With hopes that things will get better for the Note 4 when it launches officially on the market, let's take a look at our preliminary speed comparison and witness the two titans racing agains each other. Does such kind of difference in performance matter to you? Let us know in the comments!