Fujitsu Stylistic M532 is a Tegra 3 Android tablet resistant to the elements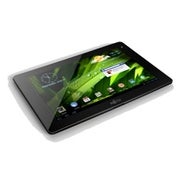 Fujitsu isn't a brand name that we mention often. Sure, the company makes some
pretty cool smartphones
, yet these devices rarely
step out of the Asian market
. This time, however, the folks have an offering a few of you might be interested in checking out.
The Fujitsu Stylistic M532 – one of the manufacturer's latest Android tablets, can be purchased online within the U.S. We are dealing with a 10-inch, Tegra 3 powered slate running Android 4.0 Ice Cream Sandwich. Its IPS LCD display has a resolution of 1280 by 800 pixels, the auto-focus camera on its back snaps photos in 8 megapixels, and a 2-megapixel front-facing cam has been thrown in for good measure. Overall, the hardware specs aren't anything mindblowing, but they seem fine for a contemporary tablet.
So how much getting one of these costs, you ask? Well, the Fujitsu Stylistic M532 doesn't come cheap, but its price doesn't seem astronomical either, considering its toughness. It retails for $549 at the company's online store and is eligible for free shipping. Anyone who is interested can check it out by following the source link below.