Fruit Ninja look-alike KingHunt is coming soon to iOS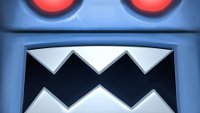 The Finnish game developer Mountain Sheep, which is responsible for several critically acclaimed games such as Ice Rage, Minigore 1&2 and Bike Baron, is currently working on a new slicing arcade game, called KingHunt. The game will be Medieval-styled and will require you to slice large amounts of cartoonish enemies. Judging from the screenshots, the game will be similar to other slicing games like Fruit Ninja in terms of gameplay.
However, Mountain Sheep's game won't be just another copy of the concept behind this genre, but will contribute to it with a thing or two. Allegedly, the game will run at 60fps, which is quite essential to the gameplay, as it will greatly affect the players' reactions. Moreover, the game will feature particle effects and collision physics. The 3D cartoon style resembles other games, developed by Mountain Sheep, and judging by the screenshots, the graphics are quite eye-catching.
There is no official info on the release date of the game either, but rumor has it that it has been submitted to iTunes for approval and might come out for iOS later this month. There is no info on whether or when other platforms will get KingHunt.
source:
TouchArcade