Will Fortnite Mobile only be available on these Android devices? We don't think so
4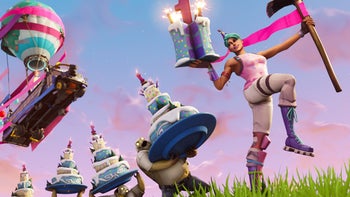 Ask any devoted mobile gamer which one's the most anticipated Android game of this summer and you will undoubtedly get "Fortnite!" as an answer. The battle royale phenomenon is still riding the high wave and shows no signs of stopping. Quite the contrary -- the Android release of the game will inevitably increase its popularity by a serious margin.
By now, it's certain that you will be able to play Fortnite on Android rather soon, especially if you are also looking forward to snatching that awfully-rumored Samsung Galaxy Note 9. Word on the street is Fortnite will
launch as a timed exclusive for Samsung's super high-end device on August 9
, and will remain an exclusive for a month. After that it will be available for a wider selection of Droids.
But it doesn't seem that the game will be compatible with just about any beater of a phone -- the hardware requirements are very likely to weed out a large tally of Android devices out there, making the game compatible with a more limited slew of phones. Found on Epic Games' website is a what can be perceived as a list of all devices that Fortnite Mobile could be compatible at launch. Now, we'd take that list with a ton of salt given that multiple obviously powerful phones of the near past are weirdly missing from the list. Tons of OnePlus devices, the LG G7 ThinQ, a bunch of handsets from Nokia, Xiaomi, and other popular manufacturers are not listed despite very likely to run the game without any issues.
Here's the list of the currently supported phones:

Google Pixel 2
Google Pixel 2 XL
Huawei Mate 10
Huawei Mate 10 Lite
Huawei Mate 10 Pro
Huawei P10
Huawei P10 Plus
Huawei P10 Lite
Huawei P9
Huawei P9 Lite
Huawei P8 Lite (2017)
LG G6
LG V30
LG V30+
Motorola Moto E4 Plus
Motorola Moto G5
Motorola Moto G5 Plus
Motorola Moto G5s
Motorola Moto Z2 Play
Nokia 6
Razer Phone
Samsung Galaxy A5 (2017)
Samsung Galaxy A7 (2017)
Samsung Galaxy J7 Prime (2017)
Samsung Galaxy J7 Pro (2017)
Samsung Galaxy Note 8
Samsung Galaxy On7 (2016)
Samsung Galaxy S9
Samsung Galaxy S9+
Samsung Galaxy S7
Samsung Galaxy S7 edge
Samsung Galaxy S8
Samsung Galaxy S8+
Sony Xperia XA1
Sony Xperia XA1 Ultra
Sony Xperia XA1 Plus
Sony Xperia XZ
Sony Xperia XZs
Sony Xperia XZ1
Android Other
Now, what does this list show? We believe it's merely a list of the devices that have passed the tests with flying colors and have been approved of running Fortnite in the future. We are certain this list would grow with time and Epic Games will add tons of other popular handsets that should play the battle royale game a-okay.
Will this list result in making all other Android devices incompatible with the game? Unlikely. Given the recent rumors that it wouldn't be published on the Play Store, such artificial hurdles are unlikely to apply. What's more, the "Android Other" entry that Epic Games has placed at the bottom highly suggest that this list is merely suggestive and not entirely restrictive.

In the end of the day, if you're device isn't on the list, don't freak out and don't list it on Craigslist just yet -- it will likely be capable of running the game after applying the magic of sideloading.