Flappy Bird is coming back to the App Store, just not now; game will feature warnings of its addictiveness
27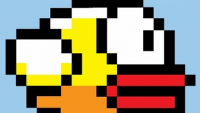 Flappy Bird developer Dong Nguyen confirmed in a tweet that Flappy Bird is going to return to the App Store. All of your prayers,wishes, and dreams will apparently come true. And while we don't know what this says about the app developer as Rock Star, or the decline of
Rolling Stone
, the magazine did run a feature on Nguyen. During the interview, Nguyen said that if he were to bring back Flappy Bird (which we now know is happening), he would be adding a warning to game players telling them to take a break occasionally.
In January, Nguyen took his game down because he felt that it was becoming a real problem for many players. Flappy Bird came out of nowhere, getting players hooked with simplistic gameplay. At the time that the game came down, Flappy Bird was bringing in $50,000 a day in ad revenue. And with the big hole left by Flappy Bird's departure being filled by many copycat apps, the return of the original game should remove some of these knockoffs from the App Store.
While Flappy Bird is returning, Nguyen's tweet said that it is not coming back soon. The developer will probably need the time to add those warnings for game players that he wants to see included with Flappy Bird's return. And while the developer mentioned only the App Store, we're sure that the game will return to the Googe Play Store as well.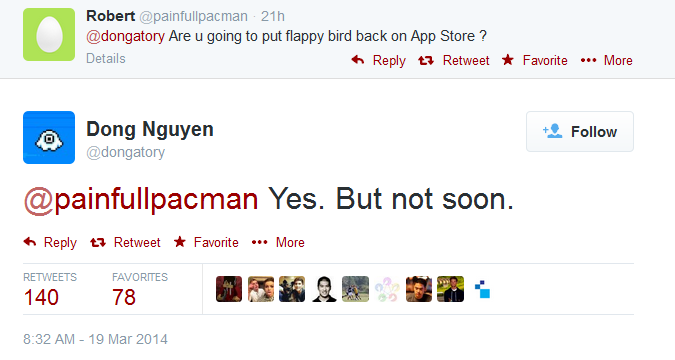 Flappy Bird is coming back
source:
@dongatory
via
PocketLint