Save up to $70 on Fitbit Versa, Ionic, Charge 3, more starting November 22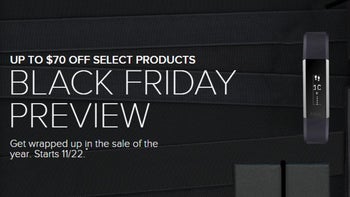 Fitbit is gearing up for its own Black Friday sale, which will include deals on some of its most recent wearables, including the Versa and Charge 3. Before the sale debuts on November 22, the company is giving customers a sneak peek of its Black Friday promotional offers.
According to
Fitbit's website
, customers will be able to save up to $70 on many of its products, but let's take a look at what the wearable company has to offer in terms of deals:
Fitbit Versa - $149.95 (was $199.95);
Fitbit Ionic - $199.95 (was $269.95);
Fitbit Charge 3 - $119.95 (was $149.95);
Fitbit Alta HR - $79.95 (was $129.95);
Fitbit Ace - $59.95 (was $99.95);
Fitbit Alta - $59.95 (was $99.95).
Fitbit may discount some accessories as well, but since this is just a preview of its Black Friday deals we'll have to wait until November 22 to learn more. If you're looking to buy a smartwatch or a fitness tracker, Fitbit may have what you desire, so check out their website in two days from now.