Fish Out of Water! is the new iPhone game by the creators of Fruit Ninja and Jetpack Joyride
2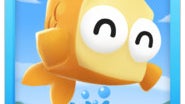 Fish Out Of Water! is a new game by Halfbrick Studios, the company behind Fruit Ninja and Jetpack Joyride, and it has just hit the Apple App Store. In it, you have the fun task to launch fish out of the water and into the blue skies for the longest possible flight. A group of crabs on the seaside will judge your attempts to best launch fish.
But pleasing these crab judges is not an easy task as each one of them has different ideas for a good launch - one likes distance, another likes more skips on the ocean surface, and there is just a grumpy one who's never happy.
You have six different fish at your disposal, each with different skills and tricks, and each round you'd have to carefully pick the three that best fit the occasion. The environment changes and the more you go, the more you unlock. But Fish Out Of Water! is also the type of game you can just play for a few minutes and leave.
In either case, it's a lot of fun for just a buck, so it wouldn't hurt trying it, would it?
via
iMore