First-generation dual-screen YotaPhone goes on sale in the United Kingdom
2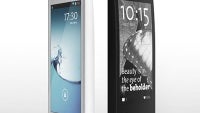 The first generation of the Russiandual-screen smartphone, YotaPhone, went on sale in the UK. Priced ata rather costly $696 (£419), the handset offers upper mid-rangespecs such as a 4.3-inch 720p display, dual-core 1.7GHz SnapdragonCPU, 2GB RAM, a 13MP rear camera and a 1MP front snapper, along withLTE and Android 4.2.2. The YotaPhone's main characteristic is, ofcourse, the 4.3-inch e-ink display on the back. The always-onbattery-frugal screen has multiple uses - for example, it allows forchecking notifications and reading messages without unlocking thephone, reading books with no eye strain, and displaying a graphicthat adds a bit of personalization to the device.
The first-gen YotaPhone was introducedin the end of 2012 and is predominantly selling in Europeanmarkets. After hitting the UK, the phone will launch in Portugal,Italy, Switzerland and some Scandinavian countries. Meanwhile, thesecond-generation YotaPhone, which we got acquainted with at thisyear's MWC, is set to launch by the end of the year. It will offersubstantial upgrades in the display and processor departments, uppingthe bar with a 5-inch 1080p AMOLED display up front, a 4.7-inch540x960 E-Ink display on the back, and a quad-core Snapdragon 800CPU.
Coming up with last-year's silicon whenthe competition is already rocking the latest chipsets is a problemthat YotaDevices promises to remedy with a competitive price. Inaddition, buyers of the first-gen YotaPhone will be eligible for atrade-in discount towards the new one. The Russian start-up may bemoving slowly, but it's difficult to put an innovative product outthere without having big-brand piles of money at disposal.
via TechCrunch