YotaPhone 2 demo: a unique phone with an e-ink display on its back
11
The first YotaPhone arrived late last year with a unique feature - an e-ink display on its back, allowing you to get up to twice as long battery life. However, the YotaPhone, an effort by Russian company Yota Devices, was sold in limited markets, and it was definitely a behind in terms of specs. Its e-ink display was not a fully functional one either - it was not swipe enabled and was limited in functionality.
Luckily, Yota Devices did not give up and have already come up with the second-generation YotaPhone, equipping it with a 5" 1080p display and this time - a full touch-enabled e-ink screen. Yota brought this working prototype to show us what can we expect from the YotaPhone 2, and it also revealed plans to bring the device to the United States and other new markets.
Design




Design-wise, the YotaPhone 2 is a huge improvement over the original one. Looking at its front where the 5" 1080p color display is we were instantly reminded of the Nexus S, and that's a strange coincidence. Turn it around, though, where the e-ink screen is, and you get a feeling that you're looking at a futuristic device from some concept video. It's curved shape with no buttons makes it look simple and the e-ink display gives it a unique appeal. Now, instead of using a case to give your phone more personality, you can simply change the wallpaper on the always-on e-ink display.

The YotaPhone 2 is made out of plastic, but given that it has a screen both up front and on the back, the plastic is noticeable only on the sides and looks okay.
Display… or rather displays!
The YotaPhone 2 features a 5-inch 1080p AMOLED display up front and a 4.7" 540 x 960-
pixel
e-ink one on the back.
The AMOLED screen looked just fine on the prototype we were shown, with great viewing angles and eye-popping colors, but it was the rear screen that really caught our attention. It appears very sharp (especially for an e-ink display) and text on it look just like paper. Most importantly, it is fully touch enabled and you can freely use it like you use a regular screen. It's perfectly legible outdoors and does not tire the eye as much as LCD or AMOLED screens. We can easily imagine this being just an excellent solution for avid readers that could even replace a second device like a Kindle.
Interface and functionality
The YotaPhone 2 will run on near stock Android 4.4 KitKat (judging by its looks), however many improvements come under the hood. Yota has optimized some Android apps so that they can run on the rear display, and it has created custom setups for the e-ink display that show your notifications, wallpapers, weather or whatever you pick. This is first and foremost to save battery, but also it will allow you to just look down your phone to glance useful information (the e-ink screen is always on).
In case It will support 4G LTE connectivity as well.
Processor and memory
The YotaPhone 2 will not compromise on specs as it is expected to ship with a quad-core Snapdragon 800 system chip and 2GB of RAM. Keep in mind, though, that it is expected to arrive in retail store only around the end of the year when we should have more powerful chipsets. Yota promises to reflect this all in the price and put a competitive price tag on its device.
The handset also feature 32GB of internal storage, but as far as it's planned right now, there is no memory expansion card slot.
Camera
The camera is one area where we don't know what to expect from the YotaPhone 2. Sure, it will have an 8-megapixel main shooter with a single LED flash and a 2-megapixel front camera, but we don't know anything about the image quality and Yota's expertise in this area.
a unique phone with an e-ink display on its back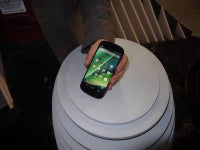 Expectations
We're honestly quite stoked about the YotaPhone 2. We love the idea of having an always-on long-lasting e-ink display on its back. Yota promises that if you get used to using the rear display, you can expect the YotaPhone 2 to last up to double what a regular smartphone does. No more daily trips to the charger.
We also imagine plenty of situations where the e-ink screen would be great, but clearly it will be most appreciated by avid readers who no longer will need to carry two devices (the second being an e-reader), and can do all their reading on just the YotaPhone 2. The handset should launch globally by the end of the year, and it is coming to the United States and China early next year.