First Nokia CDMA Windows Phones announced for China: Nokia Lumia 800C, 610C
2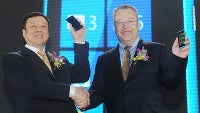 Today, Nokia launched its
first Windows Phone CDMA handsets in China
, now the world's biggest smartphone market. The Nokia Lumia 800C, a version of the flagship Lumia 800, and the budge Lumia 610C will represent Nokia's WP portfolio in the world's most populous country.
The
Lumia 800C
is made to work on China Telecom's 3G network, but apart from that there is little difference from the original unibody design and hardware guts. The handset is CDMA-compatible and will be launched in April in Tianyi FlyYoung shops and Nokia's own stores.
The first 100,000 buyers get to download Fruit Ninja and Plants vs Zombies for free from the Markeplace.
"We're excited to introduce our first Lumia smartphone, the Nokia 800C, to this important market with our exclusive launch partner, China Telecom. Working closely together, we've created a compelling, locally relevant experience on the Nokia 800C especially tailored for people in China," said Stephen Elop, CEO of Nokia.
The budget
Lumia 610C
wasn't given an exact release date, but is still expected to come in Q2 2012. The handset is among the first to lower the bar on Windows Phone and features only 256MB of RAM, a shortcut that allows it to keep a very low price. At the same time, Microsoft has worked with Nokia to ensure the WP experience remains smooth as molasses.