Evernote for Android gets even better, adds speech-to-text and sassy widgets
0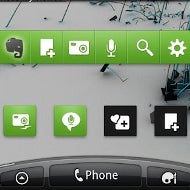 As if Evernote wasn't good enough for being millions of people's daily note-taking app, now the app received a grand update. It is not your usual bug smashing update, though, as an abundance of new features are introduced.
First off, thanks to the new
speech-to-text function
you are now able to dictate the notes instead of typing, like with AnyDO, for example. This is mainly good for audio notes as well, but can be transcribed to text if you are so inclined.
The note list now has larger thumbnails, which is much better than the miniscule ones we had before, and autotitling of notes can be turned off in the settings now. For tablet owners there is a thorough "Explore Evernote" walkthrough now to get you acquainted with the program.
Next in line are major improvements to the already great Evernote widget set. In addition to the extra Dark theme, you can now place
simple 1x1 widgets that fire up single function
s anywhere on your homescreen - very handy for those who don't need the whole nine yards of the large widget. Besides the new stuff like
quick snapshots
and speech-to-text, you can also display notebooks, tags and saved searches in the large widget, and also reshuffle the buttons that will appear in it.