Drop some bombs in High Explosive - a fun, physics game for Android
2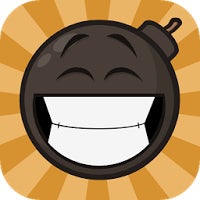 High Explosive is a casual, physics-based Android game with explosions. Lots of them. And what's even better, you're the one setting off the bombs. Interested? You should be as this small indie game can be a pretty good time waster. Also, explosions!
So here's what the deal is all about. Your objective in High Explosive is to get the bomb to the goal by setting off explosions at very precise locations with a tap on the screen. Ironically, the bomb you're supposed to move around never goes off, but hey, video games do not always make sense. Anyway, The blast wave sends the bomb flying away from the point of impact - it could roll left or right, or even fly up high in the air if the blast is close enough.
The challenge in High Explosive comes from the fact that the goal isn't always easy to reach. You'll have to take advantage of the landscape by rolling the bomb onto walls or bouncing it off the bouncy goo that's placed at strategic places. Later stages include crates that block your path and buttons that open gates.
Your score for each stage is determined by three factors - the number of explsions you used, the time that it took you to get the bomb to the goal, and whether you collected the star, which is usually placed in a hard-to-reach spot of the level. You need to be very accurate and very quick in order to get those elusive three stars, although even if you fail to collect any of them, the game will still let you move on to the next stage. The slow-
motion
mode, activated by holding down your finger on the screen, comes in handy when utmost precision is required.
And that's High Explosive in a nutshell. Overall, a promising game. There are 45 levels available as of this writing, with more expected to come in the near future. The game can be downloaded for free, but ads are displayed every once in a while to generate revenue for the developer.
| | |
| --- | --- |
| Developer: Archon Interactive | Download: Android |
| Genre: Physics, puzzle, casual | Price: Free (with in-app purchases and ads) |