Divoom Bluetune-solo Bluetooth Speaker hands-on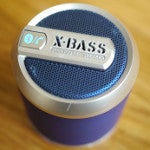 When it comes to music, it seems as though the marketing folks deem it best that speakers of all sorts deliver as much bass as possible. Who's to blame them, right? There's nothing better than some feeling some pounding tones out of a speaker to get us jump-started. Considering it's the rage nowadays, it's no wonder why Divoom's latest offering, the
Bluetune-solo Bluetooth Speaker
, is following the trend like many others out there.
Instead of donning the cutthroat speaker design, Divoom differentiates the Bluetune-solo by making available in a
rainbow of color options
– such as the shimmering blue color of our model. With its cylindrical shape, we really can't say that it's original, but nevertheless, we're thankful it's not a typical cookie cutter speaker design. However, it's worth mentioning that it packs some
noticeable weight
, which doesn't make it a candidate fit to travel in your pockets.
On the top surface, its grill tucks away the speaker beneath it, which employs the
Bluetune-solo X-Bass Sound System
for nothing more than pumping out those lovable bass tones that our ears enjoy hearing. Also, there's a multi-function button nearby that accepts/rejects phone calls and places the speaker into pairing mode. Along the rim, we appreciate the added touch of
incorporating blue LED lights
to match the paint job of the speaker – while also adding a subtle
glow
in the dark. Finally, there's a microUSB port to charge its internal battery, but more importantly, we can use the included proprietary USB cable to
daisy chain
it to other speakers. Naturally, the 3.5mm port on the speaker itself helps to achieve the feature.
Testing it out ever so quickly, we'll admit that there's a slight
shrill
to its audio quality at the loudest volume setting, but regardless of that, bass tones continue to
maintain their integrity
. Therefore, it's never underpowered at any moment. Overall, it's something meant to be used in smaller or confined spaces, seeing that its output isn't close to the level of some other comprehensive speakers. Still, some will no doubt like its portability, strong bass output, and 8 hours of battery life. Heck, it's not too bad at
$50
.
More Bluetooth speakers hands-on