Matrix One Bluetooth Speaker and Matrix NRG Universal Speaker hands-on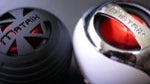 Speakers come in all sizes and shapes, right? Obviously, we've checked out quite a few offerings that complement the music listening experience on our smartphones, but for the most part, a good majority of them take the safe approach of sporting conventional designs. Rather than conforming to the majority, the

Matrix One Portable Bluetooth and Matrix NRG Universal speakers

catch our attention for their peculiar shapes. Essentially a sphere, we were a bit skeptical about them at first – mainly because we wondered if they were able to deliver any decent tones.



Then again, it's tough to gauge the kind of output that these adorable looking speakers have to offer. On one hand, the Matrix One is a

wireless Bluetooth speaker

that'll provide you with an untethered experience, while the Matrix NRG Speaker will accommodate a wide range of devices since it

connects via a 3.5mm headset connection

. However, they share the same functionality of offering punchy bass tones by simply twisting their bodies to extend their drivers.





No doubt, we find the spherical design of the Matrix One to be intriguing, but we're not all that bonkers about its build quality and choice of materials. Specifically, its

plastic casing feels rather cheap

and brittle for something flaunting a

$79.99

price point. Around the body of the Matrix One, we find its power switch, miniUSB port for charging its internal battery, and its multi-function jog dial. With the latter, it again doesn't embody something that's priced at $79.99, as it simply feels cheap yet again with its implementation. Still, we have to admit, we're astounded by the audio quality it's able to produce from its powerful

45mm driver and Xcavated Bass Amplifier

. Even at the highest volume setting, bass tones maintain their

vibrancy

without any evidence of strain or distortion. For something so compact, it goes to show that

good things come in small packages

.





Conversely, the Matrix NRG speaker is compatible with nearly any audio device out there – whether it is a smartphone or MP3 player. Interestingly, we prefer its build quality to the Matrix One speaker, mainly because its all-black

plastic casing feels considerably sturdier

. On top of that, it has a subtle soft touch feel to keep it clean looking and dirt-free. Again, all of the speaker's controls are found on the side of its body – these include its auxiliary jack, power switch, and volume wheel. Underneath, there's a 3.5mm cable that's concealed inconspicuously when it's not in use. In terms of audio quality, it's not as great as the Matrix One, as it

exhibits some strain and crackling

at the loudest setting. However, toning it down a little bit presents us with tones that are more pleasant sounding. Then again, we can't complain too much about its

$29.99

pricing.