Deutsche Telekom recovers early loss on its T-Mobile investment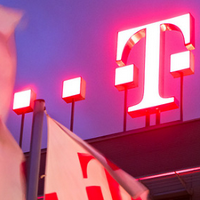 Amid talk that Deutsche Telekom is meeting with Japan's SoftBank to
discuss the latter's purchase of its stake in T-Mobile US
, the German telecom company has seen its fortunes with the investment turn from bad to good in the blink of an eye. As a result of the rumors swirling around the fourth largest carrier in the U.S., T-Mobile US has seen its value soar.
Not only has Deutsche Telekom recovered all of a €7.4 billion ($10 billion USD) writedown it made on its T-Mobile US holdings in 2012, the value of the stateside carrier has hit levels not seen since
AT&T's failed $39 billion bid for the mobile operator
. Deutsche Telekom now owns 67% of T-Mobile US, which has a total value of $42 billion.
Since AT&T pulled out of its deal to buy T-Mobile, which
resulted in the latter receiving $3 billion cash and some spectrum from AT&T
, T-Mobile has become the fastest growing carrier in the states
with its purchase of MetroPCS
, an incredibly fast 4G LTE rollout, and some major pro-consumer initiatives. In fact it would be fair to say that T-Mobile has become the darling of the industry in the states, led by CEO John Legere. The executive, who probably has magenta colored blood coursing through his veins, has been a breath of fresh air in an industry where executives are usually pinstriped and buttoned down.
According to a report on Sunday, Deutsche Telekom is seeking an all cash deal from SoftBank so that it can spend on its network.
source:
Bloomberg