Dell Streak targets medical community
1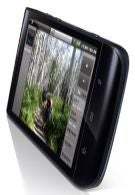 In an effort to expand the
Dell Streak
tablet beyond the consumer market, Dell is looking to market the device to the medical community. It will accomplish this by combining the device with their already proven medical software.
"When we designed the device we thought about what a clinician might like, it's perfect size to fit into a lab coat, and allows you to be able to communicate anywhere," says Jamie Coffin, VP of Dell's Healthcare and Life Sciences division. Using the Dell Streak in the hospital, healthcare professionals would be able to have full access to medical records, including patient histories and even full X-rays. With the cameras of the Streak, healthcare practitioners can also take patient photos and upload them immediately to track their progress.
Healthcare services actually make up a large part of Dell's affairs. They purchased Perot Systems, a company that handles most of the hospitals in the United States, last year for $3.9 billion. They can now very easily integrate hospital records via an app, rather than saving the information on each device separately.
The only question is how they will accomplish this despite the fact that cell signals interfere with some medical equipment. Maybe if they use Wi-Fi and shut off the radio, the device won't cause interference.
source:
Reuters