Deal: Grab the Samsung Gear S2 for just $159 (normally $299)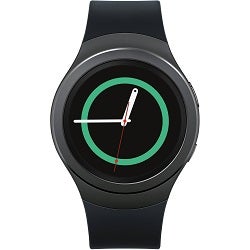 While Samsung's
Gear S3
might be the newest smartwatch to hit the market, it's also one of the most expensive. With a starting price tag of $399 (now $349 in honor of Black Friday for a limited time), it certainly isn't a purchase that's easy on the wallet. While the watch is definitely packed with plenty of power and functionality, few people are willing to shell out $400 for an accessory for their smartphone.
Let's say that you're longing for Samsung's latest smartwatch, but you simply can't justify spending that much money for it. What if you want the majority of the features that the Gear S3 has to offer but at less than half its regular asking price? That might sound like a pipe dream, but thanks to the latest deal from
BuyDig,
it's very possible.
The Gear S2 normally sells for $299, but
BuyDig
is currently offering the smartwatch for just $159. That's right - $159. The Gear S2 features many of the same features that the Gear S3 does, such as a rotating bezel for interacting with the user interface, Tizen operation system, AMOLED display, and heart-rate sensor. It does have a smaller battery when compared to the Gear S3, and the version of the Gear S2 with this deal lacks GPS - something all models of the Gear S3 have. Samsung Pay is functional on the Gear S2, but you can only use it for NFC payments and if it's connected to a Samsung phone that also has Samsung Pay on it. The Gear S3 takes the
edge
here by offering NFC and MST support for Samsung Pay and the ability to use it with any
Android phone running 4.4 KitKat
or higher.
However, even with those drawbacks, $159 is an excellent price for a smartwatch of this caliber. Only the dark grey color of the Gear S2 is available through this deal, and there's no word as to how long it will last. So, if you're interested, we recommend acting fast!
Note - Visiting the source link will show the Gear S2 with a price of $297.99. However, the price will update to $159 once you get to the review page before placing your order.