The numbers you call and apps you use on Portal could affect the ads you see on Instagram
3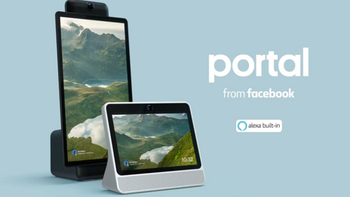 Last week, Facebook unveiled its Portal and Portal+ smart displays. Unlike the competition, Portal's cameras follow you around the room. And the Smart Sound feature focuses on your voice, minimizing other noises. When more people join the conversation, Portal keeps them in view as well. And Amazon's highly regarded Alexa is the virtual personal assistant. Sounds like a device you might be interested in owning, right?

But since this is a device designed by Facebook, there are questions surrounding privacy. Yes, the camera and mic can be disabled with a tap, and Portal doesn't show ads on its screen. But as Facebook told
Recode
, "Portal voice calling is built on the Messenger infrastructure." That means that when you make a call on Portal, the same data that is collected on any Messenger-enabled device is collected. That includes the length and frequency of calls. This information, along with app usage, may be used to decide which apps to serve you on other Facebook owned properties, like Instagram for example.
"Portal voice calling is built on the Messenger infrastructure, so when you make a video call on Portal, we collect the same types of information (i.e. usage data such as length of calls, frequency of calls) that we collect on other Messenger-enabled devices. We may use this information to inform the ads we show you across our platforms. Other general usage data, such as aggregate usage of apps, etc., may also feed into the information that we use to serve ads."-Facebook spokesman via email
The product VP in charge of Portal, Rafa Camargo, says that while this information potentially could be used to help send targeted ads to users of other Facebook properties, the company doesn't intend to use the data it obtains this way. Not exactly comforting words from a company that
just saw 14 million users of its flagship online property give up information to hackers
like their "username, gender, locale/language, relationship status, religion, hometown, self-reported current city, birthdate, device types used to access Facebook, education, work, the last 10 places they checked into or were tagged in, website, people or Pages they follow, and the 15 most recent searches."
Recommended Stories