DashClock Widget updated with shortcuts and visual tweaks
2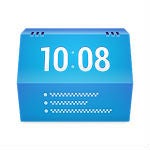 DashClock is the new hotness these days. If you are running Android
4.2
, there is literally no good reason for you to have not installed DashClock yet. It is a lockscreen widget that is meant to replace your default lockscreen and make it better. Well, now DashClock has gotten an update with shortcuts, visual tweaks, and more.
The new update brings DashClock to version 1.2, and the biggest addition is in custom shortcuts. Before, DashClock would use the default app when you tapped on either the clock or weather info, but now you can choose what app you want associated with the clock or weather. On the visual side of things, users can now alter the opacity of the DashClock background, and choose to center the clock.
Other than some other bug fixes, the update also adds translations for French, German, Spanish and Russian. If you want to give DashClock a try, it's available for free in the
Google Play Store
.