Conversation mode added to Google Translate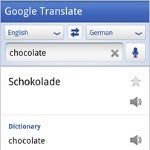 A new version of Google Translate is available and, without any doubt, the coolest new feature is that voice translation mode is added, which allows a phrase said in one language to be pronounced by Google Translate in another.
Some of the other improvements that can be found in this version are better dropdown boxes, an optimized input box, and cleaner icons and layout.
Google Translate is put into a daily usage in more than 150 countries and supports 51 languages - from Afrikaans to Yiddish, and has the voice-to-text function for 15 languages. The updated version of the app is already available in the Android Market.
source:
Google Mobile Blog