Clearwire to launch the Samsung Notion smartphone, outs a WiMAX router
2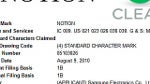 Rumors that Clearwire is preparing to launch its first phone have been swirling around since September, confirmed by "reliable" sources. It was said then, that the handset will be called the Samsung Notion, and will be essentially a rebadge of the latest WiMAX phone on Sprint, the
Samsung Epic 4G
. The test units have been running Android 2.2 Froyo, and for video calling the phone will have the ooVoo service preinstalled.
These rumors are getting more credible by the day, as Samsung's USTO trademark application for the Notion name, filed in August, recently became public with the Clearwire logo clearly sitting next to it. The added value here would be that Clear will enable the Wi-Fi hotspot function of the handset, without us having to pay for the privilege, as Sprint is demanding.
At first the intentions have been to launch the
HTC EVO 4G
alongside with the Samsung Notion, and release them in December. These plans, however, have been reportedly scrapped, and now we are looking into Q1 release, only for the Notion. Knowing that for $45 a month Clear is giving unlimited "4G" downloads, we can stomach the rumored $349 for the handset, which is still very speculative.
And if you want to get Clearwire's WiMAX goodness throughout your house here and now, the company just outed a stylish Wi-Fi router at the cost of $120, or $7 on a monthly lease basis.
source:
WimaxSatX
&
UnwiredView