Chocolate chip cookies to yoga, Microsoft shows off the Surface 2 with a new ad
16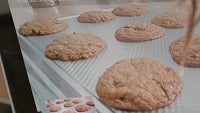 Who wants a cookie? Loren Brill, founder of
Sweet Loren's
Ready-to-Bake Deserts based in New York City, wants to set you up with some home-cooked cookies with her 100% natural recipe.
Loren is a success story in more ways than one. In 2007 she won a battle against cancer and was even more poised to fine tune a healthy balance in her life. It's not like she was on a McDonald's diet, but she liked the delicious side of life. The lifelong yoga practitioner wanted to bring better ingredients to life's more delicious fare.
So Loren got to work experimenting with cookie dough recipes. Using her sister as her
guinea pig
"Official Taste Tester," Loren wanted to create yummy treats that used whole food ingredients instead of processed products. She got rid of white flour, refined sugars, and other "staples" of cookiedom and replaced them with other ingredients.
After winning a baking contest, Loren's vision became clear, and thus
Sweet Loren's
was born, sharing her recipes with cookies from chocolate ship, to chewy oatmeal cranberry, peanut butter, and espresso chocolate chunk. Cookie lovers can cook the whole batch, or one at a time if they choose.
How does Loren manage her new business and maintain balance with her health? She has found her solution with a
Microsoft Surface 2
tablet. The Surface 2
has great battery life, has a nice HD display
, is a fast performer, and it comes with Office 2013 RT. That last point is useful in that it spares the expense of having to buy a separate software license, something that all new, small businesses can benefit from.
The Surface 2 starts at $449 for a 32GB Wi-Fi model and $549 for a 64GB edition. An LTE model with 64GB is also available and uses AT&T's network, it costs $679.