Cell phones become more and more popular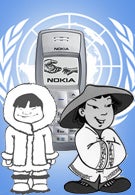 The world economic crisis is definitely causing a negative effect on the cell phone manufacturers, but seems to be unable to affect people's will to communicate. According to a U.N. survey, 60% of the world population owns a phone, which is a giant leap, compared with 15% in 2002. The report says that the people in Sweden are enjoying the latest information and communication products, with South Korea, Denmark, Netherlands, Island and Norway following next. The U.S. is barely 17th in the top list.
Cell phone sales in 2008 have grown with 6%, according to a survey of Gartner. This looks logical, since the devices are becoming more and more popular. However, traces from the crisis can also be found here, since the sales from the last quarter of the year have been 4.6% lower to those from 2007. On the other hand, this does not go for the smartphones, which are experiencing their renascence and are now 23% of all sold phones, which is more than two times more, compared to last year. According to Greg Sterling from Sterling Market Intelligence, the main reason for this is the people's need of a constant internet access. This is the area where smart devices are better than the ordinary ones, as the leader here is the iPhone with a whole 66%.
source:
TG Daily
,
Yahoo! News
,
more