Meet the Moto Mod for amateur vloggers that never were
2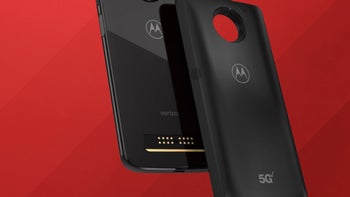 Among all the modular component ideas of various manufacturers, Motorola's Moto Mods proved to be the only ones enjoying relative success and covering the gamut of versatility. there is a snap-on power pack, modular JBL speaker, and even the
future mod that would bring 5G
to your plebeian LTE handset in the not-so-distant future that you see in the header.
Motorola, however, has been experimenting with way more Mods that currently meet the eye. In addition, already released ones get canceled if they prove unpopular, like the
snap-on physical keyboard
.
What we haven't seen so far, however, comes deep from Motorola's labs courtesy of renowned leakster Evan Blass, whose @evleaks account posted the "multifunctional grip designed with videographers in mind" that you see on the right here. With a pivoting head, it looks like a fat-head tripod, and we are certain that it would have carried out its duties well.
Who knows, Motorola may resurrect this project at some point, especially if a lot of people start clamoring for this unorthodox Moto Mod to be brought up from the basement. Do you like what you are seeing in this combo Moto Mod grip?