What to expect from Motorola's 5G Moto Mod
6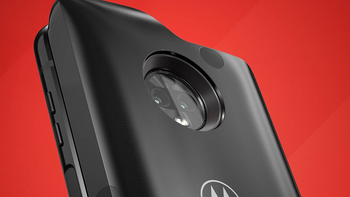 Yesterday, Motorola unveiled the
Moto Z3
which will be a Verizon exclusive in the U.S.
The handset is powered by the Snapdragon 835 Mobile Platform, and when launched, it will cost $480 or 24 monthly payments of $20 a month on Verizon's Device Payment plan. In the beginning of 2019, Motorola and Verizon will offer a 5G Moto Mod for the device; the modular accessory will essentially make the Moto Z3 compatible with Big Red's mobile 5G network when the carrier throws the switch to turn it on next year. Pricing for the 5G Moto Mod is unknown at the moment.
The 5G Moto Mod will use Verizon's 28 GHz millimeter wave spectrum, and it carries a pair of Qualcomm modems (X50 5G NR modem and the X24 LTE-Advanced modem). Once the 5G Moto Mod clicks into place on your Moto Z3, it will take over all modem functions, both 4G and 5G, from the phone. The X24 LTE modem will be used for everyday tasks like browsing the web, and the X50 5G modem comes into play when you're live-streaming video or downloading music, movies and television shows. Under perfect conditions in the lab, the 5G Moto Mod hit a peak speed of 3.5Gbps for downloads. Using it in real life should provide speeds of 1Gbps. For uploads, the peak speed in the lab was 1.2Gbps with speeds in the real world expected to hit 350-450Mbps.
And to make sure that the 3000mAh battery on the phone doesn't expire too quickly while employing a 5G connection, the 5G Moto Mod includes a 2000mAh battery of its own. Motorola says that this should allow the phone to run the 5G Moto Mod for a full day on one charge. At first, the accessory will work only with the new Moto Z3, but an update will allow it to work with the Moto Z2 line as well. Motorola hasn't decided yet whether it will similarly update the OG Moto Z handsets.
source: Motorola