By year's end WhatsApp will no longer support BlackBerry 10, Android 2.1 and other platforms
99+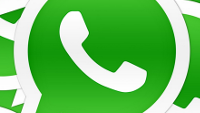 If you use a device powered by any version of BlackBerry, including BlackBerry 10, you can say goodbye to WhatsApp. The popular messaging app is ending its relationship with all BlackBerry operating systems by the end of this year. But wait! There's more. Other platforms such as Nokia S40, Nokia Symbian S60, Android 2.1, Android 2.2 and Windows Phone 7.1 also will no longer be supported by WhatsApp at the end of 2016.
The Facebook owned WhatsApp recently turned seven. At the time the app started, 70% of the smartphones purchased were powered by BlackBerry or Symbian. Android, iOS and Windows Phone, now installed in 99.5% of mobile devices, was in use on only 25% of such products at the time. WhatsApp says that for the next seven years, it wants to concentrate on the platforms that the "the vast majority of people use."
If you employ a handset that runs on one of the affected operating systems and want to remain a WhatsApp user, the messaging app has a one word recommendation for you, "Upgrade!"
"When we started WhatsApp in 2009, people's use of mobile devices looked very different from today. The Apple App Store was only a few months old. About 70 percent of smartphones sold at the time had operating systems offered by BlackBerry and Nokia. Mobile operating systems offered by Google, Apple and Microsoft – which account for 99.5 percent of sales today – were on less than 25 percent of mobile devices sold at the time."-WhatsApp
This is an interesting move by WhatsApp, especially the decision to stop supporting the earlier Android builds. We wouldn't be surprised to see other apps follow WhatsApp and start weeding out older Android platforms.
source:
WhatsApp
via
Crackberry