Brooklyn's first Apple Store opens July 30th
25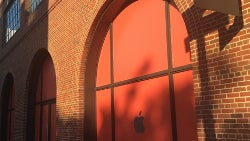 When the Dodgers left Brooklyn in 1959 for glitzy Los Angeles, it took half a century before a major professional sports team came back to the borough. In 2010, the NBA's New Jersey Nets made the move followed last year by the NHL's New York Islanders. Both teams play in the new Barclay's Center, which opened in 2012. But Brooklyn won't be considered a major borough on par with Manhattan until this coming weekend. That is when Brooklyn's first Apple Store opens.
This coming Saturday, July 30th, Apple will open the doors of its newest retail location. The new store resides at the corner of North 3rd Street and Bedford Avenue in the Williamsburg section of Brooklyn. The doors will open at 10am ET. Apple has covered the windows with orange tape, preventing passersby from looking in. This enhances the mystery of the place. The store has the same hanging sign seen at other Apple Stores, made out of metal with the iconic Apple logo displayed. While the building is two stories tall, it is unknown whether both floors will consist of shopping space.
While this is the first Apple Store in Brooklyn, it is the ninth in New York City. Six of those are in Manhattan with one in Staten Island, and one in Queens. Signs promoting the Grand Opening dot the area around the building. Speaking of which, you can click on the slideshow below to see what the first Apple Store in Brooklyn looks like from the outside.
source:
AppleInsider