British photographer shoots Apple iPad 2-with a camera, of course-for new ad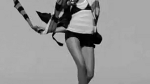 Word is that Apple has an ad for the Apple iPad 2 in the can. The spot was supposedly filmed at New York City's Pier 59 late last month. For the shoot, the guys at Cupertino tabbed British photographer David Sims. Sims has been behind the viewfinder for Pepe Jeans and Burberry, so he should have been used to what Apple's marketing people wanted for the advertisement,
Those who were involved with the commercial say that there were no Apple iPad 2 units used in the actual filming and that the tablet will be added to the advertisement during post-production. Even though the device was not on set, it seems that everyone involved had to sign what is being called a "hard core" non-disclosure form.
To see what we might expect from Mr. Sims, click on the video below which shows one of his ads for Burberry. As far as the iPad ad is considered, we have no idea when they might start airing.
source:
Electricpig
Recommended Stories