BlackBerry seeks partner to go up against the Apple-IBM enterprise combination
33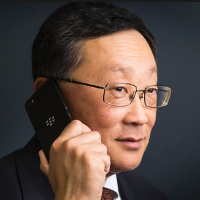 BlackBerry CEO John Chen was
the first to call Apple iPhone users "wallhuggers,"
because of the necessity for them to find an outlet to plug in to during the course of a day. Samsung took the insult to another level, by
basing an entire television commercial on the "wallhuggers" comment
. Now, Chen is
taking potshots at Apple and IBM
, comparing their recently announced enterprise based partnership to two elephants dancing.
While the Apple/IBM combination could make life difficult for BlackBerry, it also confirms that the latter is on the right track with its focus on the enterprise. The executive also said that he is talking to a few companies about starting up a partnership of his own. He is looking to find a company that focuses on security and identity management. This past week, Chen said that BlackBerry would offer a cloud based version of BES10, which would allow companies to manage a fleet of phones without having to maintain a server.
Some of the names that have been bandied about include SAP and Oracle. Both have cloud based services, and Chen knows SAP very well, having sold Sybase to the software company in 2010 for $5.8 billion. BlackBerry's recent hiring of Marty Beard as COO could have something to do with Chen's selection of a partner. Beard worked with Chen at Sybase, and is familiar with Oracle.
"
I am working on some, and maybe we will collaborate with others. If I focus on security and identity management then we will be a good solid partner in this enterprise world
."-John Chen, CEO, BlackBerry
source:
FinancialTimes
(SubscriptionReq'd) via
MobileSyrup