BlackBerry could have a phablet on the way, says CEO John Chen
49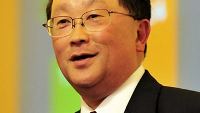 BlackBerry CEO John Chen says that the phablet market is still growing, which is why BlackBerry could be planning on doing something in that area. According to Chen, it is still early days in that market. As for the possibility of a new BlackBerry slab,
the executive sounded like his predecessor when he said that the tablet market is dead
.
The CEO was speaking with the
Jakarta Post
, which explains his comments about the
BlackBerry Z3
, which
recently launched in Indonesia
after being known as the BlackBerry Jakarta. Chen says that he wants to sell 1 million units of the phone, which was the first delivered by Foxconn under a five year contract with the contract manufacturer. Foxconn designs, manufacturers and stores the device, while BlackBerry adds its software.
"If we will do another thing, we will probably go to phablet. I think if you look at our strategy and if you look at where the market goes, there is definitely a good market for something between a phone and tablet. I think the phablet could be early, the tablet is already late. That is not a bad thing, because you can bring new technology. But, if I have the opportunity I will go to phablet. […] we will build what the market wants."-John Chen, CEO, BlackBerry
Chen was asked how he competes in Indonesia against iOS and Android. He responded by saying that the latter two operating systems are strong with consumers, while BlackBerry's strength is in the enterprise. But that doesn't mean that the BlackBerry name doesn't count for anything on the consumer side of things. "
We do compete in the consumer space, and the product we launched [the Z3] is a very competitive product, especially since our brand is really big here in Indonesia
," said Chen.
source:
JakartaPost
via
PCMag
Recommended Stories