BlackBerry PlayBook application may give away the battery life of the tablet
1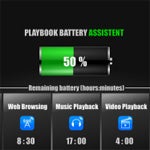 Before any official information is announced about the battery life of the BlackBerry PlayBook tablet some screenshots appeared of an application called "PlayBook Battery Assistant" and on basis of them some surprisingly good results may be expected.
If we can rely on the data provided by the graphs, the PlayBook can be used for 300 hours and 30 minutes in Stand By mode and for up to 17 hours for Web browsing. There is also a graph of the battery life of music playback, which according to the application is 34 hours. Also marked are Video Playback and Gaming – according to this data PlayBook can support up to 8 hours of playing videos and 12 hours of gameplay without using the charger.
If this information is true, the PlayBook will surprise us pleasantly by doing much better than the expected battery life of between 6 and 10 hours. Such results will surpass even the ones shown by the Apple iPad (up to 10 hours battery life when surfing the web).
source:
BlackBerry App World
via
BerryReview