BlackBerry Leap now shipping in the U.S. and U.K.
24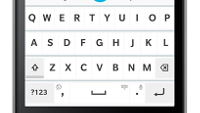 A little more than a week ago, we told you that
the BlackBerry Leap was available for pre-orders in the U.K.
Now, the latest smartphone from BlackBerry is shipping in the U.S. in addition to the U.K. This is far from being BlackBerry's highest spec'd phone. But with the latest and greatest build of BlackBerry 10 (10.3.1 to be precise) pre-installed on the device, it gives it certain features such as BlackBerry Assistant, which is a voice activated personal assistant like Siri, Google Now and Cortana.
The
BlackBerry Leap
also is equipped with BlackBerry Blend which allows you to view your phone's contents on your PC. BlackBerry 10.3.1 also comes with the Amazon Appstore for your Android app shopping needs, along with BlackBerry World for apps written with BlackBerry in mind. The device, which is being offered unlocked, also encrypts calls and offers protection from malware. The virtual QWERTY corrects mistakes in a flash. But perhaps the most outstanding feature for 'Berry fans is the 2800mAh battery which will give them up to 25 hours of heavy usage before conking out.
In the states, the BlackBerry Leap is $275 from BlackBerry and Amazon, and will work with T-Mobile and AT&T's pipelines. In the U.K., the Leap is priced at the equivalent of $298 USD including VAT. In Germany and France, the phone is priced at the equivalent of $310 USD (which includes VAT) and starts shipping tomorrow.
Ironically, the BlackBerry Leap is not yet available in BlackBerry's home country of Canada. It also is listed as "coming soon" in India, Saudi Arabia and the United Arab Emirates.
source:
BlackBerry
via
Crackberry