BlackBerry Key2 LE announced: looking pretty in red! (...and champagne, and black)
0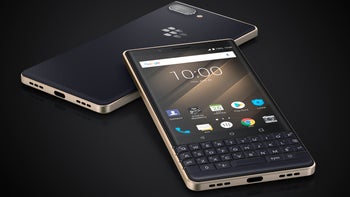 Earlier this year, TCL Communication launched the
BlackBerry Key2
— pretty much the current flagship BlackBerry model. It sports the signature hardware keyboard with a capacitive touch surface and upper-midrange hardware for $650. Now, the company announces the
BlackBerry Key2 LE
— a more affordable device, at $400. Obviously, some corners were cut here, so let's see what exactly the phone is all about:
Design
On the front, there's a 4.5-inch display with an almost square-ish 3:2 aspect ratio and the same redesigned keyboard we got on the Key2. Its keys are 20% taller than the ones on the KEYone for a better tactile feel, and have a more pronounced fret design for a more comfortable touch type experience. The new Speed Key — which gives you quick access to a grand total of 52 customizable shortcuts — is also here. And yes, the fingerprint scanner in the spacebar key is still present.
Hardware and camera
Alright, so it's more or less the same phone on the outside... maybe a bit more plasticky. So, what about the hardware inside?
The processor inside the Key2 LE is a Qualcomm Snapdragon 636 capable of clock speeds up to 1.8 GHz. The phone has 4 GB of RAM and either 32 GB or 64 GB of storage, which you can further expand via microSD. In contrast, the Key2 has a Snapdragon 660 and 6 GB of RAM, so it's definitely a bit more powerful, but the LE can still stand on its own feet.
We get a dual camera on the back again. The Key2 LE sports a 13 MP "main" camera on the back and a 5 MP assistive sensor. The latter is used for depth data, so you can take these trendy bokeh shots. In contrast, the Key2 had two 12 MP sensors and a telephoto lens back there, complemented by TCL's "Optical Superzoom" software solution, which the Key2 LE lacks. So, there's a definite downgrade here.
What about the front? An 8 MP sensor is there for your unflatteringly detailed selfies and the phone's display doubles as a flash.
Lastly, there's a 3,000 mAh battery keeping the lights on. Not too shabby, especially on midrange hardware.
Software
The Key2 LE will also have the Locker pre-installed on it. This is a feature that was added to the KEYone via a post-launch patch. Basically, it's a secure folder, which only opens up via a passcode or your fingerprint. It doesn't sync to the cloud, so anything you put in there stays there. The camera software works in sync with the Locker — if you tap on the fingerprint scanner, instead of the shutter, it takes a photo and instantly sends it to the secure folder, instead of your gallery.
The DTEK security service is also here, giving you at-a-glance information about various app permissions and fishy activity on your phone. Even if there's nothing wrong with your phone right now. the new Proactive Health Check feature will perform a deep scan of all your apps and detect any potential weeknesses, letting you pre-emptively take care of problem apps.
Price and launch
The BlackBerry Key2 LE will launch in early September for the price of $399 for the 32 GB model and $449 for the 64 GB variant. That's a price tag that better matches its midrange hardware and is a bit easier to swallow than the one on the Key2, we think. Its color options are quite nice — we've got a red Atomic and a gold-ish Champagne alongside the classic black (Slate). It'll definitely draw in the dedicated BlackBerry users out there, especially since there were no corners cut when it comes to the hardware keyboard — it sports all the latest features and developments that TCL has made.
Of course, you will have to live with a plastic frame and possibly not-so-great cameras, but hey... compromises. Any takers?