BlackBerry 10 web browser gets tested, performs great overall
22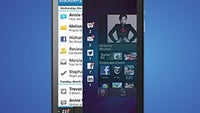 The
BlackBerry Z10
is shaping up like a decent smartphone that is relevant in every aspect, and the web browsing experience is clearly one of them. That's what becomes evident from this video comparing the BlackBerry 10 web browser with Safari on the
iPhone
, Internet Explorer on a Windows Phone powered
Samsung Ativ Odyssey
, and the stock web browser on the
Samsung Galaxy Note II
running Android.
During their testing of the BlackBerry Z10, the guys at
MobileBurn
ran several browser benchmarks on all devices, the popular Browsermark being one of them. The best performer turned out to be BlackBerry 10 and its WebKit-based browser, which scored an impressive 2382 points – a tad more than the Galaxy Note II, which finished in second place.
However, turns out that the browser on the BlackBerry Z10 can't handle JavaScript as well as the competition. In fact, it gave the lowest SunSpider score out of all four handsets, so that's one thing
RIM
BlackBerry could have put a bit more effort into.
But in addition to the aforementioned benchmark tests, there's a lot more going on in the video below. Several browsing features are being demonstrated, such as the Reader Mode, which clears the page from non-essential content leaving texts and images only for easier reading. You can also see the web browser in action during real-life testing while browsing some relatively heavy, media-rich pages. Check it out below and don't hesitate to drop a comment if you like what you see.