Black Friday app and game deals
14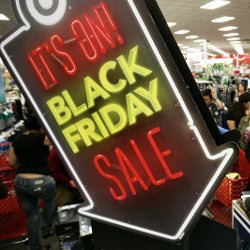 Just a week from now, on November 28th, millions of shoppers will line up in front of the largest retailers in the wee hours to shop some of the deals available for the whole year.
It's Black Friday, the busiest shopping day in the year.

Luckily, for mobile gamers, the shopping experience these days include nothing of the craziness of the sleepless crowds rushing through stores, grabbing everything within reach. Shopping is much more civilized in the digital world - click and you get an app. Luckily, the early pre-Black Friday deals are already out, and they include some of our favorite apps and games, all of which are heavily discounted. Check these early Black Friday deals on Android, iPhone, and iPad titles right below.

SOULCALIBUR
Genre: Fighting
Price: $3.92, down from $14.99
Dragon Quest IV
Genre: RPG
Price: $9.99, down from $14.99
Infinity Blade Trilogy
Genre: Action RPG
Price: $10, down from $20
Godfire: Rise of Prometheus
Genre: Action-adventure
Price: $0.99, down from $6.99
Worms 3
Genre: Turn-based artillery game
Price: $1, down from $4.99
Worms 2: Armageddon
Mega Man X
Genre: Side-scrolling action
Price: $0.99, down from $4.99
Waking Mars
Genre: Platform-adventure
Price: $1.99, down from $2.99