Bill Gates admits he won't get his kids an iDevice: "They have a Zune music player. They are not deprived"
59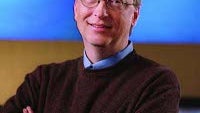 Bill Gates stepped down from Microsoft in 2008 and many people associate his move with the Apple and Google wave that has flooded the market, but the former world-richest man still remains loyal to the company he kickstarted back in 1975. So loyal that even his kids
wouldn't use Apple
's trendy products like the iPhone or the iPad:
'They have the
Windows equivalent
. They have a Zune music player, which is a great Windows portable player. They are not deprived children,' Gates stood his ground.
The former Microsoft chief executive currently runs the Bill & Melinda Gates Foundation in Seattle, radically changing course from the tech industry to humanitarian activities. But will he ever return to Redmond when the company needs him? 'No. I'm
part-time involved
. But this is my job now,' Gates answered. 'My full-time work for the rest of my life is this foundation.'
And it's that loyalty to the cause of helping humans and making lives easier that really unites. Even when ones root for Apple, while the rest go with Microsoft. Check out the full interview for online magazine The Heat at the source below with all the curious details.
Recommended Stories