Best new Android, iPhone, and Windows Phone games of November 2014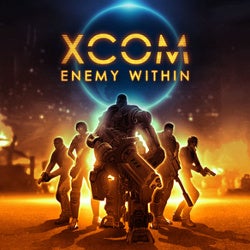 With another month behind us, it's time to take a look at the best Android, iPhone, and Windows Phone games of November 2014. Luckily, we have no shortage of great apps, with XCOM: Enemy Within leading the charge as one of the most anticipated releases this month, but there is plenty more in all different genres.
Joe Dever's Lone Wolf action-RPG is a refreshing new addition to the series and great news for lovers of the adventure genre. Then, you have Vainglory, a new massive online battle arena (MOBA) game with stunning graphics that is quite addictive.
For all the rest of the best new games for Android, iPhone, iPad, and Windows Phone of November 2014, take a look right below.
#1: XCOM: Enemy Within
Genre: Strategy
Price: $12.99
Missing some squad-based alien-killing action? You might want to check out XCOM: Enemy Within, the sequel to 2012's XCOM: Enemy Unknown. Developer Firaxis says the game offers the same core gameplay as its predecessor, but it's loaded with more content to have fun with. New content as in new types of soldiers, abilities, enemies, maps, missions, and a multiplayer mode.
#2: Oddworld: Stranger's Wrath
Genre: Action-adventure
Price: $5.99
In the dusty, undeveloped wastelands of Western Mudos, cantankerous townsfolk find their settlements besieged by belligerent outlaws. Along comes Stranger, a drifter turned bounty hunter, with a unique double-barreled critter-firing crossbow.
#3: Joe Dever's Lone Wolf
Genre: Action RPG
Price: Free
Lone Wolf is back, as a video game series with a brand-new story, a new combat system, stunning graphics and much more! Make meaningful choices and carve your own path through this epic non-linear story. Test your strength with the dynamic turn-based combat system, prove your skill with the lock-picking minigame and accept the challenge of wits posed by the mysterious Shianti Cube.
#4: Vainglory
Genre: MOBA
Price: Free
Outplay real opponents in this deep, uncompromising real-time MOBA. Fight with lightning-fast controls using powerful heroes. Destroy the enemy Vain crystal and claim glory! Watch the preview video now to see real gameplay of 3-vs-3 multiplayer battles.
#5: The Sailor's Dream
Genre: Indie/Ambient
Price: $3.99
The Sailor's Dream is the latest game by Simogo, the studio that keeps on pushing the boundaries of interactivity and design, after its innovative Year Walk and Device 6. More of an interactive story, The Sailor's Dream does not have all that much of a 'game' element as it has a visual narrative, an immersive story-telling that shows all the possibilities of the touch screen medium.
The Sailor's Dream is an experience - you flow through the world using natural gestures on the touchscreen, and the transitions between various parts of the world is smooth. Just like its earlier games, this one is best played with your headset on. This way you'll be able to fully focus on the experience, as the narration, the images and the ambient soundtrack all combine to help you find your way in this game.
#6: Candy Crush Soda Saga
Genre: Match 3 Puzzle
Price: Free
King, the developer of the wildly-popular Candy Crush Saga that also tried to trademark "candy" and "saga", just released a sequel to its highly successful game – meet Candy Crush Soda Saga. The title just got soft-launched in Canada, Sweden, Spain, and the Netherlands. In accordance with the "never change a winning team" principle, Kings's new title does not deviate from the philosophy of its predecessor, as it still requires you to match colorful candies across 75 levels.
As its name suggests, Candy Crush Soda Saga is set in a "mouth-watering", "soda-soaked environment". Apparently, the fizzy drink in question affects the gameplay, as it causes candies to float instead of fall down like they did in Candy Crush Saga. This is one of the more obvious changes and frankly said, it's highly likely that only hardcore Candy Crush Saga devotees will be able to spot the remainder of minor differences between King's duo of sweetish games.
#7: Space Expedition: Classic Adventure
Genre: Platformer
Price: $2.99
In the world of gaming, space expeditions are no walk in the universal park. There are always those pesky aliens that roam around, hungry to prey on your soft human flesh. What else can you do, besides give them a good, honest blaster shot? In Space Expedition: Classic Adventure, you'll retread the familiar plot of an astronaut sent on an abandoned space station in the middle of interstellar nowhere.
#8: Icewind Dale
Genre: RPG
Price: $9.99
The isometric RPG Icewind Dale: Enhanced Edition is now live on the App Store. The $9.99 game is brought to you by Overhaul Games, which is the team responsible for Baldur's Gate: Enhanced Edition. It's safe to say these guys can be trusted with presenting the 2000 Black Isle / Interplay PC classic to modern timers. Aside from giving the original game's still-impressive artwork a coat of polish, Overhaul implemented an all-new interface, cross-platform multiplayer, new spells and items, almost 40 new kits and classes, missing old quests, and "countless bug fixes and improvements". What's the game about, though? Well, Icewind Dale is an icy region of the Forgotten Realms - a fantasy world setting inside the Dungeons & Dragons role-playing game. In the beginning, you create a party, and you venture forth to fight evil powers and frozen monsters.
Monument Valley, which we consider a game of impossible beauty, had one significant shortcoming - it was short. So short people demanded their money back. We, for one, appreciated its display of quality over quantity, but we can't be ones to speak for everyone out there. Luckily, if you've been longing for more of silent princess Aida's world-warping adventures, developer Ustwo announced Forgotten Shores, an expansion pack with an unknown number of new levels.
The creators say they built many new maps, but they also strived for a high quality standard, which is fancy speak for "we cut a lot of stuff!". Still, whatever the expansion lacks in quantity, it will make up for with more exploration of various architectural styles and the addition of landscapes.
#10: Crossy Road
Genre: Racing
Price: Free
#11: Cosmic Crown
Genre: Turn-based strategy
Price: $1.99
#12: Random Heroes 3
Genre: Action platformer
Price: $0.99
#13: 1-Bit Hero
Genre: Retro arcade
Price: Free/$0.99
#14: Ms. Particle Man
Genre: Retro arcade
Price: $1.99
#15: Dead Earth: Trigger man Duty & Last Shooter Call
Genre: Shooter
Price: Free
#16: Angry Birds Go!
Genre: Casual
Price: Free
#17: Shape Up Battle Run
Genre: Endless Run
Price: Free
#18: Chimpact 2 Family Tree
Genre: Platformer
Price: $1.99
#19: 0h h1
Genre: Logic game
Price: Free