Best Buy throws in a free Samsung Galaxy Tab 10.1 when you purchase a 3D-enabled HDTV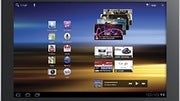 Here comes a deal that you do not see every day – starting this Sunday,
Best Buy is giving a free Samsung Galaxy Tab 10.1
, a 16-gig Wi-Fi-only model, to be exact, with the purchase of a 46-inch Samsung 3D-enabled HDTV. The TV is priced at $1,499, which makes the offer sound pretty tempting considering that the tablet itself costs a third of that.
"So, where is the catch?" one might ask after finding out about Best Buy's TV-tablet bundle. First thing that comes to mind is that the Galaxy Tab 10.1 is not selling so well and the retailer is trying to free up space in its inventory. Currently, Apple's iPad is the most predominant device on the tablet market with slates from other companies lagging far behind. However, a Best Buy spokesperson has stated that it is the TV that is being pushed rather than the tablet that comes with it. The retailer has a pretty similar TV made by LG currently up for $999, which is probably why the more expensive Samsung model is not getting that much attention. Well, it surely will now after hooking up with the sleek Galaxy Tab 10.1.
The deal will last for seven days only so if you are interested, feel free to stop buy a Best Buy outlet and check it out first hand. Of course, do not forget to drop a comment below and brag about it if you walk out of the store with a Samsung Galaxy Tab 10.1 in your hands.