Best Apple iPhone 6s cases
3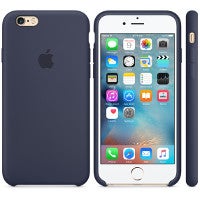 In 14 days from now, the first batch of iPhone 6s units will leave Apple's warehouses and speed towards millions of new buyers. That leaves you with just over a dozen days to contemplate an important question:
"Do I get a case for this?"
. And if the answer is yes, then you have to also pick one!
Luckily, with iPhones' popularity, the accessories market is obsessed with getting their stuff out of the gate as soon as a new, update iPhone is announced, and some are even ready before that. In fact, seeing as the iPhone 6s is identical in size and depth to its predecessor, save for an added thickness of just 0.2 mm, we're told that iPhone 6 cases
will
work with the iPhone 6s, too. This means that while perhaps your favorite case maker may not have come out with an official 6s line just yet, its iPhone 6 products will work for you anyway. Still, just to be on the safe side, we've picked only the best case makers who have an official iPhone 6s line.
Spigen
From super-thin, translucent cases that let you flaunt your iPhone 6s, through balanced solutions that combine aesthetics with durability, down to super tough and rugged shells that come with military grade protection and built-in screen protectors, Spigen has it all. A total of 14 different cases, the popular maker's collection has something for everybody, on any budget.
UAG
Urban Armor Gear's iPhone 6s' collection is also already available, with its signature, militaristic design available in a whole palette of colors. Unlike Spigen's diverse portfolio, UAG is focused on tough cases only, so you won't find any skinny, translucent solutions here. In terms of pricing, they range from $34.95 to $39.95.
Verus
Like Spigen, Verus' line of iPhone 6s cases includes see-through, thinner cases, along with more rugged and/or multi-functional solutions. Prices start at $24.99 and peak at $34.99. Here's what's in store:
Otterbox
One of the largest and most unique case maker is undeniably Otterbox, so we obviously couldn't skip over it, even if their cases are not exactly up our alley for the most part. In any case, as usual, you can expect extreme protection from most Otterbox cases, though the company does have a few 'lighter' models available, too. Prices range from $39.90 and go all the way up to $59.90. Most of the cases below can be customized with a different pattern.
Apple
Yep, Apple sells cases for the iPhone 6s, too. There are just two model available, and they're both pretty minimalist as you can expect: Sillicone case and Leather case. Both of them, especially the former, are available in a number of colors, all of which you can explore below: