BeoSound 8 takes iPhone stereo docks to the next level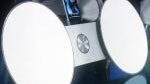 We've all seen the iHome and other suck speaker docks for the iPhone, iPad, and iPod, but you want something a little more serious. Enter the BeoSound 8 from Bang & Olufsen. The BeoSound 8 brings
premium sound
quality and customizable style to your compact stereo experience.
The BeoSound 8 can either stand on its own, or can be hung on a wall. To match your unique space or mood, it also comes with lavender blue, purple, green, yellow, black, and white speaker covers. What's really exciting about the dock is its conical shaped
speakers
. Aesthetically, their shape makes them less obtrusive, and they appear to fade into the wall, like a flat-panel
TV
. In terms of sound quality, the shape helps divert sound around any sized space, avoiding what they call "standing waves" that would be encountered on parallel surfaces.
You can also customize the dock's sound for a particular shape or size of room, via certain presets. Individual levels can also be adjusted via the BeoPlayer app. The main control of the dock is reminiscent of an iPod's clickwheel, but you can also use a B&O remote, or your Apple device.
At $999, the BeoSound 8 isn't cheap. But if you're picky about the function and feng shui of your speaker dock, the BeoSound 8 might be for you. The dock comes in both black and white (with matching cords), and will be available by late November.
source:
Bang & Olufsen
via
DailyMobile
Recommended Stories