Barra: Xiaomi welcomes Microsoft and its experimental program, but we are not partners with them
6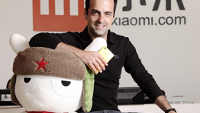 Just the other day, we told you how Microsoft is testing the
Xiaomi Mi 4
by flashing a Windows 10 ROM on the device
. We even showed you some
photos of the Xiaomi handset running Microsoft's mobile OS
. If the testing with Xiaomi pans out, Microsoft hopes to create ROMs for different Android devices. Flashing the ROM on a particular model will allow the user to have the native Windows 10 experience on his unit.
Even though Xiaomi made it clear that they were not partnering with Microsoft, rumors started circulating anyway that the two companies were working together and that future Xiaomi handsets would dual boot Android and Windows, or even run Windows all alone (replacing Google's open source OS). That brought a response from Googler turned Xiaomier (to make up a new word) Hugo Barra who put up a post on his Google+ page.
Barra reiterated that this is an "
experimental
" program being conducted by Microsoft in cooperation with the "
Mi fan community in China
." He explained how those who want to take part in the test will have to flash their device with the Windows 10 ROM provided by Microsoft. But Barra did say that "
Xiaomi continues to fully embrace the Android ecosystem through our MIUI software platform
," and added that the company has new Android features on the way.
"Microsoft is working on a build of Windows 10 specifically for Mi 4 devices. This Windows 10 build will not be running on top of Android nor be available as a dual-boot option. A small number of Mi 4 power users from the Xiaomi Forum in China who choose to take part in this experimental program will have to manually re-flash their Mi 4 devices with this Windows 10 ROM, in the same way they would re-flash other Android ROMs.

At Xiaomi, we are very supportive of users trying new things and we encourage them to do so all the time! That's why all of our devices ship with unlocked bootloader, for example. That's also why Xiaomi welcomes Microsoft team members to interact directly with members of the Xiaomi Forum in China. More details will be announced by Microsoft in the coming months. This program will only be available in China."-Hugo Barra, Xiaomi
So we can now put all of those Xiaomi-Microsoft rumors to bed.
source:
+HugoBarra
via
AndroidAuthority