Asus ZenUI Launcher now available for most Android phones (running Android 4.3 or newer)
7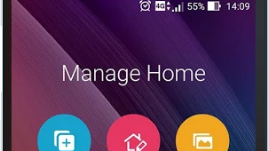 If you own an Android smartphone that runs Android 4.3 or later, and you want to try out a new launcher, you can now get Asus' ZenUI - which, until recently, was seen only on Asus ZenFone handsets and tablets. ZenUI is available as a free download, and you can get it via Google Play (check out the source link at the end of this article).
ZenUI is highly customizable: you can change icons, effects, fonts, and so on, and there are various free themes that you can download from Asus. Overall, the launcher is pretty fluid and fast, but it's not as simple and straightforward as, say, Google Now Launcher or Nova Launcher, and it may take a little while before you get used to it.
One thing that we don't like is the fact that, once you install ZenUI, it will nag you to "protect your apps" with a security app called CM AppLock (but we don't really see the point of doing that). Anyway, most of the people who are already using ZenUI seem to like it a lot, as the launcher is currently rated 4.7 stars out of 5 on Google Play. Let us know if you want to give it a try, will you?
source:
Asus ZenUI
(Google Play download)