Apple's FaceTime gets a huge upgrade: video conferencing with up to 32 people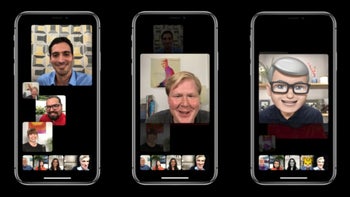 While iOS 12 is a platform primarily focused on performance and reliability, this doesn't mean that Apple didn't concoct some fine new features to augment the system's already vast arsenal of capabilities. One of the bigger ones is a pretty huge upgrade for FaceTime video calls, which includes conferencing support for up to 32 people. This is a nice one-up by Apple, as Skype, Microsoft's super-popular chat app (but not thanks to MS), supports video calls with up to 25 participants.
A fun little feature is the ability to join a FaceTime call using your personal MeMoji avatar – another new feature in iOS 12's roster.
iOS 12 is expected to be released later this year, probably in September, along with Apple's 2018 iPhone line-up.