Apple updates Siri by adding new Super Bowl commands
2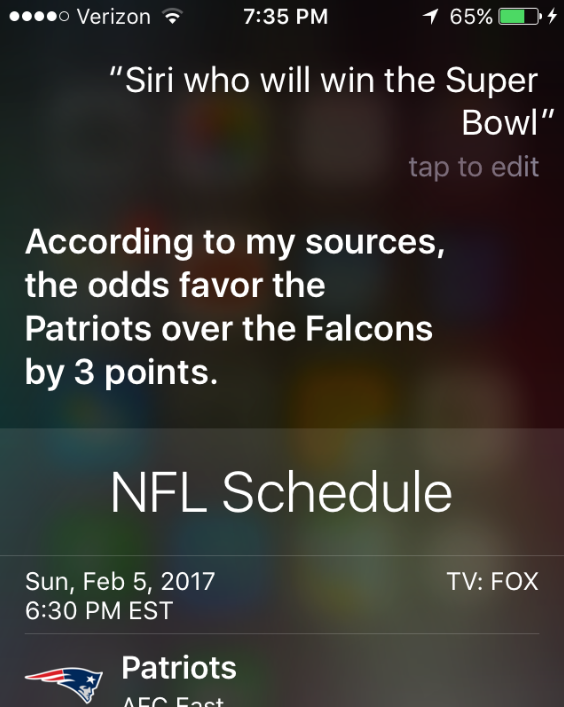 Siri is updated for Super Bowl 51
Super Bowl 51 will be played this Sunday at NRG Stadium in Houston. Tom Brady leads the New England Patriots into battle against Matt Ryan and the Atlanta Falcons. Both teams prepare for the big game by practicing on the field, viewing film, and studying new plays added to the playbook. While it might not have crossed your mind, iOS virtual assistant Siri also has to prepare for the big game by getting an update from Apple that adds new commands.
For example, if you don't know where to turn to in order to watch Super Bowl 51 streaming on your iOS flavored device, simply activate Siri and say "Watch the Super Bowl" and Siri will find an app that will allow you to stream the game. The
Fox Sports Go
app is the most likely one that you'll be directed to, considering that it is streaming the game (and all of the commercials) for free. If you are planning on attending Super Bowl 51, Siri will give you directions that you can use to get to the game via Houston public transit.
Siri is now able to answer inquiries about regular season and playoff stats for both teams, and certain players on each squad. You can even find out how many passing yards Matt Ryan had last week against Green Bay. If you only care about the Super Bowl as a social event, you can use Siri to find out answers to more basic questions related to game time, the venue,and the names of the teams that are playing. Siri will also tell you who is providing entertainment at halftime, and where you can find some snacks nearby.
One thing Siri won't do is predict the winner of the game. Ask Siri who will win Super Bowl 51, and she will merely give you the Vegas line (Patriots -3 points).
source:
Apple
via
AppleInsider