Apple to expand store-within-a-store at Walmart, Target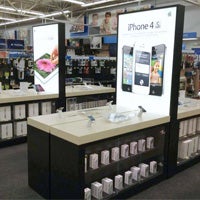 Apple is currently testing the store-within-a-store concept at two Targets and,
as we mentioned last month, a Walmart in Lowell, Arkansas
. Considering Target has approximately 1,700 and Walmart has a little over 3,800 locations in the U.S., Apple could easily expand its retail presence by partnering with these two retail giants, particularly in rural areas where Walmart is a strong distribution channel.
Apple will expand upon this test by opening a store-within-a-store in 23 additional Target stores by the end of this year. Gene Munster, an analyst with Piper Jaffray, visited one of the Target locations and noted that, opposed to the setup inside Best Buy, Target does not sell any of Apple's Mac products. Munster wrote a note to investors saying that he does expect Target to expand to the full Mac lineup. In short, it seems that Target and Apple's focus is predominately on mobile for this type of distribution.
When Apple's Tim Cook was asked directly about Apple's relationship with Walmart during its quarterly earnings call, Cook remained somewhat ambiguous by saying that Apple is "trying some things."