Walmart gets a touch of class with Apple's store-within-a-store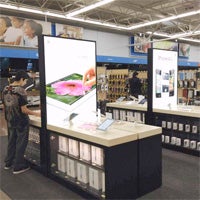 If we asked you to make a list of adjectives that describes the shopping experience at the Apple Store and another that describes the experience at your local Walmart, we're guessing those two lists wouldn't have a lot in common. Now they do.
A Walmart location 20 minutes outside its headquarters in Arkansas has just launched an Apple store-within-a-store concept. The new look features backlit graphics, wood tabletops, working product displays, and clean, glass-walled product storage.
While the displays may remind you of similar efforts at Best Buy, this new setup is quite an improvement over Walmart's previous Apple display, which was notorious for being inconspicuous, not well maintained, and over all 'meh' at best.
Check out the following collection of photos of the Lowell, Arkansas store that were posted by ifoAppleStore to take a look at what you may see in the future at your local Walmart.
source:
ifoAppleStore