Apple reportedly upped its iPhone orders for the remainder of the year to 56 million units
2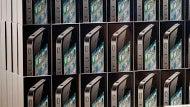 The shaky sources of Digitimes are reporting that for the period July-December of this year, Apple has upped its previous 50 million units order to 56 million, or a 12% increase.
That includes them all - the iPhone 3GS, iPhone 4, iPhone 4 in its CDMA version, and the world phone iPhone 5, or whatever the next one gets named. Its orders alone for the fourth quarter have been allegedly raised from 14 million to 20 million units, with the rest going to the current versions in circulation. The orders for Q3, however, have been slashed from 7 million to 5.5-6 million, presumably because of
the delay that a Verizon manager was talking about the other day
.
If these comments are true, that means that Apple expects a killer fourth quarter, considering that it sold 20.34 million this past one. If it keeps the pace like that it could very well
surpass LG as the third largest phone maker in the world
by year-end.
source:
Digitimes