Apple records a 49% increase in revenues and 90% in profits for Q2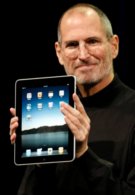 Things have been rolling so smoothly for Apple, aside from the whole lost iPhone situation, as they reported some stellar news regarding their performance for the second quarter of 2010. Considering that it was a non-holiday quarter, they blew away their numbers from the same period last year out of the water as they reported an increase of 90 percent in profits versus the same period last year. Profits tallied in at $3.07 billion, or $3.33 per diluted share, with quarterly sales coming at $13.50 billion for the three months ending on March 27. The results were nonetheless spectacular when you consider that Apple reported a quarterly profit of $1.62 billion, or $1.79 per diluted share in Q2 2009. Surprisingly enough, there was much support seen on the international front as 58 percent of the quarter's revenue were accounted from international sales.
The Cupertino based company sold an astonishing 10.89 million iPods, 8.75 million iPhones, and 2.94 million Macintosh computers. The astounding amount of iPhones sold during the quarter was quite remarkable as it represented a 131 percent unit growth versus the same period last year. Steve Jobs said, "We're thrilled to report our best non-holiday quarter ever, with revenues up 49 percent and profits up 90 percent. We've launched our revolutionary new iPad and users are loving it, and we have several more extraordinary products in the pipeline for this year."
With the Apple iPad selling so well, the 3G versions about ready to sell, and the international scene ready for their turn, it signals to a healthy progress in the short term. Looking further towards the summer, there is no doubt that Apple will bring more steam to the table as they embark on launching the next generation iPhone – which so happened to be
unofficially unveiled
already.
via
AppleInsider