Next-gen iPhone found, said to be the real thing
67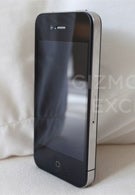 Remember the presumed next-gen iPhone that was
found on the floor of a bar
and was offered for purchase by the lucky person who found it? Well, it looks like Gizmodo has offered the highest price for it is now reporting that this is indeed the next iPhone, expected to be announced by Apple this summer. The fact that they believe it's the real thing is because all software they have tried is recognizing the device as an iPhone, and that the internal parts are all pointing to this being a real Apple device.
The device is now boxier, with the rear side now flat, instead of rounded. As it seems, the screen is about the same size (or slightly smaller), but with higher resolution (
presumably 640x960 pixels
).
The other new stuff includes a front-facing video call camera, bigger main camera lens (
maybe 5MP
?) with flash, Micro-SIM slot, instead of ordinary SIM and probably a secondary mic for noise-cancellation. The new iPhone seems to be only 3 grams heavier and equipped with about 16% bigger battery.
Check out Giz for more pictures and video and let us know what you think in the comments section below.
Apple iPhone 4 Preliminary Specifications
source:
Gizmodo