Apple plans 25 new Apple Stores in China within two years
3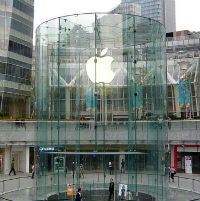 Apple had previously said that it was planning to triple the number of stores it has in China, and now it is giving a bit more detail on those plans. China is the third largest country in the world by land mass, and first in population; so, Apple wants to have its hardware near as many people as possible. To do that, Apple is planning to build 25 new Apple Stores in China over the next two years.
The news came straight from Apple CEO Tim Cook, who is currently in China, and has already toured a
Foxconn factory
known for producing Apple iPhones. Apple already has 15 stores in China, and the plan is to have 40 by the end of 2016. There is no word yet on where the stores will be located, though Apple has 8 of its current 15 stores in either Shanghai or Beijing.
Cook has high hopes for China, saying that it's just a matter of time" until China is "Apple's biggest revenue contributor." China became Apple's number two revenue generating country back in 2011, and has since only trailed Apple's home U.S.. We'll have to see how long that holds.